► Price
* Adult 60,000won / $60 / per person for VIP Seats
* Adult 50,000won / $50 / per person for S Seats
* Adult 40,000won / $40 / per person for A Seats




► Itinerary
| | | | | |
| --- | --- | --- | --- | --- |
| Day | location | Time | Itinerary | Meal |
| Day 1 | Seoul | N/A | Nanta Performance | |
► Conditions
* Entrance fee
* Taxes


► Remarks
Nanta tickets will be made available upon the client's request during the following hours only;
Daily : 17:00PM & 20:00PM
Fri,Sat,Sun&Holidays : 14:00PM, 17:00PM & 20:00PM

► Description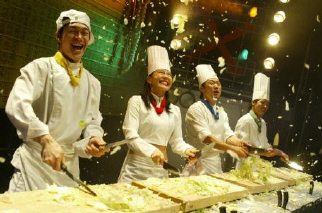 Nanta is a must-see performance while in Korea and there are only 4 places the entire country(3 in Seoul 1 in Jeju) that hold this special event. Nanta is world widely recognised for its very own distinctiveness and has been very well appreciated all over the world and still is to this day.


NANTA has been running since October 1997 and is the most popular show ever in Korea. It also has achieved outstanding international success having performed on Broadway and toured widely around the US and the rest of the world. It receives rave reviews wherever it performs and quickly sells out.

Without a dialogue, but through rhythmic banging of knives, pots and pans, NANTA (or Cookin' as it was known in the States) tells the story of four crazy chefs who have been set the impossible task of making a wedding banquet in just one hour. What follows is pure musical mayhem, and they even manage to fit in a love story! The show is based on Korea's traditional garak (rhythms) of Samulnori (traditional Korean percussion quartet), and can be enjoyed by all the family.